10 BEST Places to Visit for Fall 2023: Exciting US Destinations to Explore
As you embrace the enchanting beauty of autumn, get ready to embark on a journey to some breathtaking destinations perfect for experiencing this colorful season. The crisp air and the vibrant foliage are waiting for you to explore and indulge in a variety of seasonal activities and events. Let the magic of fall create lasting memories as you venture through magnificent landscapes.
USA Today's 10Best Readers' Choice Awards just announced the "Top 10 Best Places to Visit for Fall!" From cozy cabins hidden in the woods to scenic mountain hikes, and even vibrant, historic cities, these remarkable places have been chosen for their picturesque scenery, delightful weather, and rich cultural offerings. So pack your bags and get ready to immerse yourself in the splendor of autumn!
Get ready to be mesmerized by the vibrant fall colors in the Smoky Mountains, with Gatlinburg, Tennessee being the prime spot to witness this seasonal spectacle. Don't forget to ascend the Gatlinburg Space Needle – for an unforgettable experience, take in the enchanting sights of the Great Smoky Mountains from around 400 feet above ground.
So, with its colorful foliage, exciting events, and countless opportunities for adventure, you can't pass up a fall visit to Gatlinburg – the Smoky Mountains' crown jewel!
No. 2: Allegany County, Maryland
With expansive Appalachian landscapes, Allegany County invites you for thrilling outdoor adventures during the fall season. At the 3,119-acre Rocky Gap State Park, you'll find excellent trails for hiking and mountain biking. Plus, don't miss out on camping opportunities where you can revel in the fresh autumn air and vibrant foliage.
Mackinac Island is a picturesque autumn paradise, even at just 4 square miles in size. You'll marvel at the stunning fall foliage by walking, taking a horse-drawn carriage tour, or exploring via bike. With a high density of vibrant trees, breathtaking views await you at every turn on this must-visit fall destination!
Keep an eye on the Michigan fall foliage map for peak viewing times to make the most of your journey. And don't forget to indulge in some exciting fall activities to make your trip to Mackinac Island a truly memorable experience.
No. 4: Branson, Missouri
Situated close to the Arkansas border, Branson stands out as a delightful destination with the spectacular Ozark Mountains as its backdrop. Prepare to be enthralled by amazing attractions like the Dinosaur Museum and the TITANIC Museum.
But the true beauty of Branson lies in its pristine outdoors, so make sure you spare some time to uncover gems like Table Rock State Park and Ruth and Paul Henning Conservation Area during your visit. Get ready to immerse yourself in the captivating natural splendor Branson has to offer!
No. 5: Stowe, Vermont
Get ready to experience the breathtaking fall colors, delightful craft beer, and beautiful New England architecture that Stowe, a captivating Vermont town, has to offer. Known for its exceptional skiing opportunities, Stowe also offers other enchanting experiences.
You can revel in the splendor of the colorful forest during a leisurely walk on the Stowe Recreation Path. Additionally, don't miss the Vermont Ski and Snowboard Museum to explore the town's cherished outdoor adventure activities.
No. 6: Greenville, South Carolina
In autumn, you can immerse yourself in Greenville's bustling food and drink scene as well as its abundance of outdoor attractions, all enveloped in stunning fall colors. Get ready to find a new favorite brewery right in the heart of the city!
Don't forget to visit the delightful Falls Park on the Reedy, located in downtown Greenville, for a leisurely and captivating mid-afternoon stroll through this charming green space.
No. 7: Bayfield, Wisconsin
Are you ready for some adventure amidst the serene Great Lakes during fall? Then Bayfield, Wisconsin should be on your itinerary! This charming town in Northern Wisconsin offers countless kayaking and boating experiences around the Apostle Islands.
What's more, immerse yourself in the town's rich history by attending the well-renowned Apple Festival, a magnificent event that started in 1962.
No. 8: Cody, Wyoming
Get ready to experience the captivating Old West charm in Cody! This city offers a fantastic starting point to discover Wyoming's breathtaking autumn landscapes. You'll have a blast with activities like trout fishing, hiking, and wildlife watching.
If you happen to face inclement weather during your visit, worry not! The Buffalo Bill Center of the West is an excellent indoor option, where you can delve into the area's rich history. Don't miss out on this amazing fall destination!
No. 9: Taos, New Mexico
Embrace the breathtaking natural beauty in Taos during fall, as the Sangre de Cristo Mountains burst into a vibrant display of colors. But there's more to experience in this picturesque town! Get your adrenaline pumping with outdoor adventures like rafting, kayaking, horseback riding, and hiking, all ready to make your visit to Taos unforgettable.
No. 10: Asheville, North Carolina
As autumn arrives with its refreshing coolness, you'll be captivated by the numerous enthralling attractions Asheville has to offer. While the city is renowned for its impressive beer scene, it also boasts stunning natural landscapes waiting to be explored.
From the majestic Blue Ridge Parkway to the enchanting North Carolina Arboretum, your fall visit to Asheville will be a memorable experience!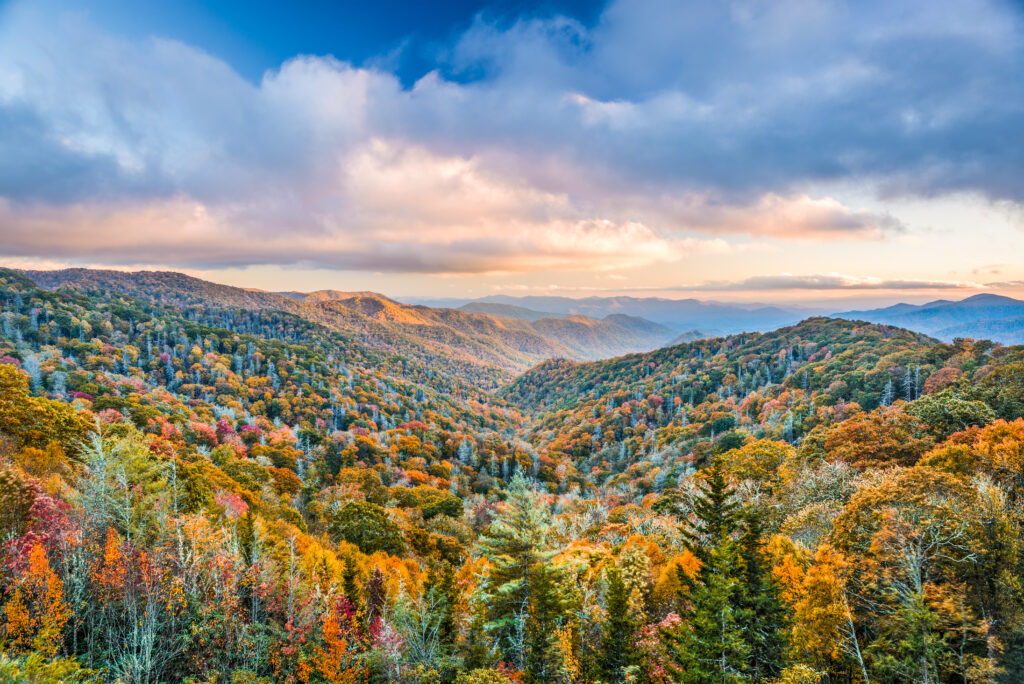 Where Will the Fall Colors Take You?
Across the US, you have amazing options for experiencing the stunning beauty of autumn. As the leaves change colors, landscapes across the United States transform into picturesque scenes, perfect for a fall getaway. Here are some fantastic destinations to consider:
New England: A classic pick for fall foliage, it offers vibrant colors and charming villages. The region's lovely vistas will leave you wondering if you've stepped into a storybook.
Great Smoky Mountains: For a more southern adventure, the Great Smoky Mountains come alive with colors in autumn. Hiking trails offer plenty of opportunities to immerse yourself in the colorful show.
The Pacific Northwest: Crisp air, lush forests, and cascading waterfalls await in the Pacific Northwest. Discover golden hues as you explore the region's mountains and coastline.
To make your fall foliage journey memorable, consider these tips:
Timing: The exact time when colors peak can vary, so check local forecasts closer to your trip. Being flexible with your travel dates can greatly enhance your experience.
Activities: Enhance your leaf-peeping adventure by participating in autumn-themed activities, such as festivals, harvest celebrations, or a scenic hayride.
Stay Safe: Fall weather can be unpredictable, so pack layers and prepare for anything. Make sure to also practice responsible and sustainable tourism on your travels.
As you plan your fall adventure, embrace the excitement of discovering new places and the warm, inviting atmosphere of autumn. Soak in the captivating colors and create lasting memories in these idyllic destinations.